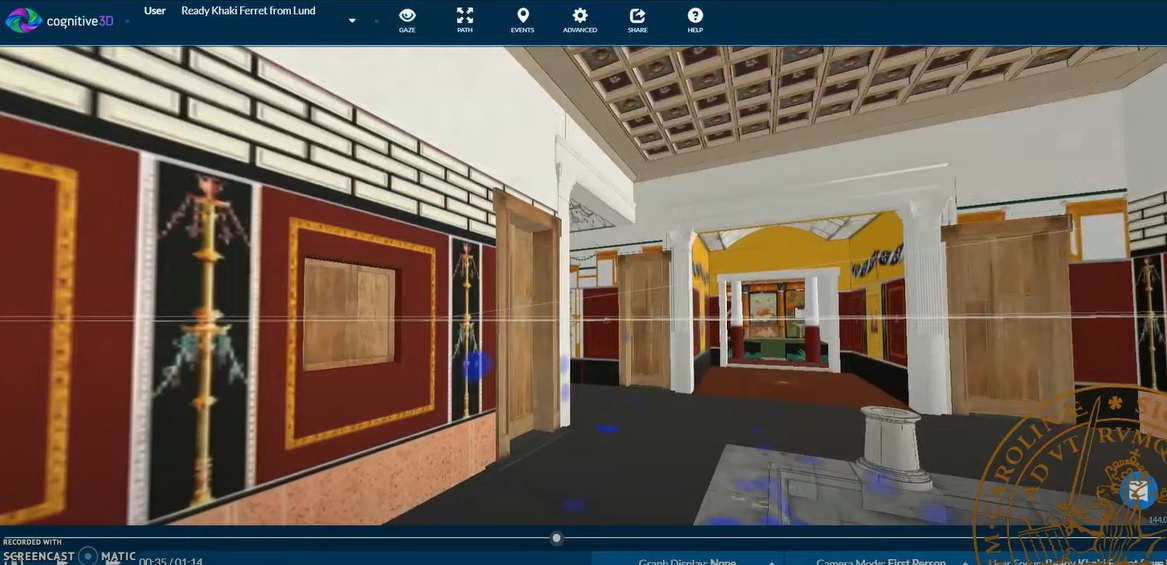 Specifically, academics at Lund University recreated a particular villa, known as the House of Greek Epigrams, in 3D. And they then tracked the gaze of study participants as they viewed the home using VR. From this they then studied what artefacts, in what locations, drew the eyes of those inside the house.
For example, to investigate how illumination influenced the social experience of elements such as wall paintings or even graffiti.
Basically data from visual interactions (gaze, fixation and movement) was itself plotted into a geodatabase for further analysis. Very clever. They were using Unity, the VR game engine, and the lighting effects present at dawn and noon…
"It is possible to query the geodatabase and automatically select areas with higher levels of visual attention, and to understand in which order objects are seen and the positions taken in the space by the user. Multiple human sessions can be integrated, and a large quantity of data can be managed in order to detect patterns that may relate to particular features of the examined virtual space. Furthermore, by managing these data in 3D GIS, an individual user's experience can be associated with a descriptive record entry (attribute table) and linked to a specific visual attention point, making it easier to combine a quantitative assessment of the visual experience with specific factors such as, for example, user age and lighting conditions."
You can see some of the evolution of the 3D models here.
The Lund team summarises some of the technology involved:
"A 3D reconstruction of the House of the Greek Epigrams in Pompeii was built using 3D modelling software (3D Studio Max) and successively imported into Unity, a cross-platform game engine for virtual reality experiences. This software enabled a physically based lighting simulation. For the specific scope of this research, two very different scenarios were chosen: dawn on the winter solstice and noon on the summer solstice. The system recorded the visual experience of the participants in the trial (five age-diverse, Caucasian females). Output data, analytical insights and direct measurements were obtained using the software Cognitive3D."
You can read more in this area on the 'The Swedish Pompeii Project' website.
[Via Physcics.org]