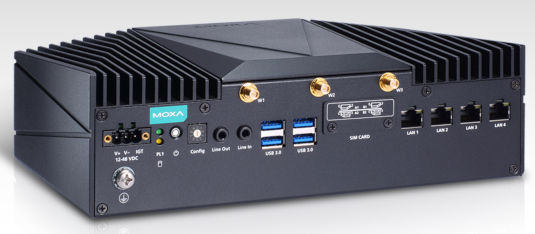 The V2403C series industrial computers are built around Intel's 7th generation Core i7, Core i5, Core i3 or Celeron processors, and come with up to 32Gbyte RAM, one mSATA slot and two hot-swappable 2.5inch SSDs for storage expansion.
Two mPCIe wireless expansion slots and four SIM-card slots are provided to establish redundant LTE/Wi-Fi connectivity.
Interfaces include four Gbit Ethernet ports, quad RS-232/422/485 serial ports, one DisplayPort output and one HDMI output with 4K resolution. Four digital outputs and four digital inputs, all ~30V ruggedised, are collected together on an terminal block at the rear of the case.
Power is accepted between 12 and 48Vdc. "Reliable connections and good power management are key to in-vehicle applications," according to the company. The design must handle 'dirty' power during engine starts and shutdowns. Start-up and shut-down delay mechanisms help in avoiding system malfunction and damage."
THe chassis are fan-less and (excliding mounting flanges) ~280 x 150 x 75mm
-40 to 70°C models are available, and the computers are Microsoft Azure and AWS certified for IoT applications.
The V2403C product page can be found here, from where Linux and Windows software manuals can be downloaded, as well as a hardware manual.