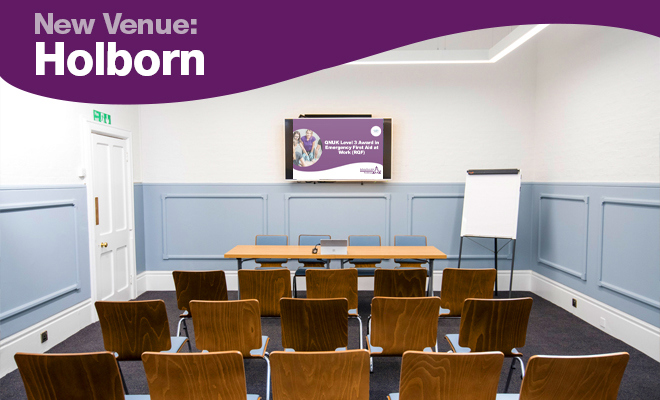 At Safety First Aid Training we have made a commitment to provide engaging, high-quality first aid training in a way that is practical and accessible to as many of our delegates as possible. To meet an increase in demand for courses and provide more convenient training locations, we're opening two new training venues!
We are proud to present our new venues in Hertfordshire and Central London:
Central London – Holborn Venues
Juxtaposed with the bustle of London, Holborn Venues is a quiet alcove situated in the centre of the city. This versatile venue features a spacious, air-conditioned training room with complimentary Wi-Fi. Located in the heart of Holborn just a few minutes' walk from Chancery Lane and Farringdon, the venue is ideal to serve delegates in the Central London area.
This venue will offer three-day First Aid at Work courses, one-day Emergency First Aid at Work courses and two-day First Aid at Work requalification courses starting at the end of October.
---
Hertfordshire – Stevenage Business & Technology Centre
The Stevenage Business and Technology Centre is a vibrant, modern business centre located near the heart of Stevenage. The venue features free parking, an on-site bistro and comfortable meeting rooms. Situated off Gunnels Wood Road within a few minutes of both Stevenage Railway Station and A1(M) Junction 8, it's suited to serving delegates in the wider Hertfordshire area.
This venue will offer three-day First Aid at Work courses and one-day Emergency First Aid at Work courses starting in November.
---
These two venues will support our existing training centre in Edgware, North London to provide convenient locations for all our delegates. Safety First Aid Training also offers on-site training where we can deliver courses at your location.
Check out which training courses are available at each of our venues below: