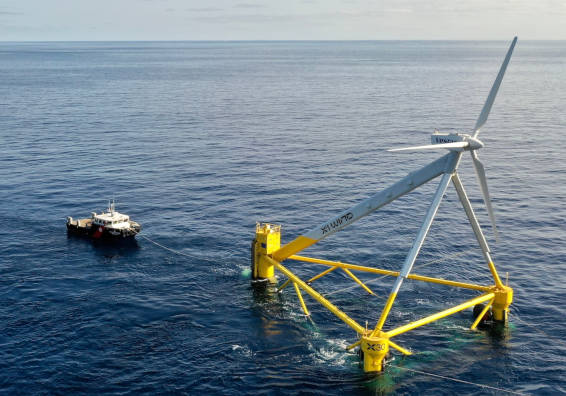 This is a third-scale model, fitted with a Vestas V29 turbine (225kW), intended to demonstrate the floating platform, dubbed X30.
X30 has been developed to be towed into place by what X1 calls 'local vessels' and be moored at a single point via a flexible tether mooring system (details below).
While expensive to make than mono-poles, floating platforms allow off-shore wind turbines to be installed in deeper water than those fixed solidly to the sea bed.
The test installation is in 50m or water, trailing from its anchor (installed last June) so that the whole assembly trails like a weather vane, removing the need for active yaw control, said X1, which sees the scheme as suitable for turbines up to, and possibly beyond, 15MW.
"This is a key milestone for our company, and for the floating wind sector in general, being able to install a floating wind platform using a tension-leg platform mooring and requiring only small vessels," said X1 Wind CEO and co-founder Alex Raventos. "Data obtained from the X30 will contribute to de-risk the technology, improve the design, and obtain the certification of our commercial-scale platforms in preparation for upcoming tenders in Spain and other countries worldwide."
Known overall as the PivotBuoy project, the programme is backed with €4m from the European Commission's H2020 fund.
Led by Barcelona-based X1 Wind, the consortium includes EDP NEW, DNV, INTECSEA, ESM and DEGIMA, and, as well as Plocan, research centres WavEC and DTU.
The European Commission has also selected X1 Wind, with with Technip Energies and others, to deliver the NextFloat project – a commercial-scale platform in the South of France.
The next step for PivotBouy is to connect the turbine to the site power grid, after which the plan is to run it with real-time sensor monitoring until March 2023.
Novel tethering
The wind turbine works 'backwards', with the generator nacelle into the wind and the blades behind. Its tethering system involves a cluster of tensioned cables (rather than trailing cables) from the taller of the three base towers, that go straight down to a single point on the sea bed. Because they are tensioned, the platform does not move much with tidal flow. What it does do, is to rotate around the stubby anchored tower depending on wind direction, naturally keeping the blades at right-angles to the wind.
This tethering system, and competing wind turbine tethering systems, is discussed in detail in this excellent document from the PivotBuoy project website. Information on X1 Wind can be found here.