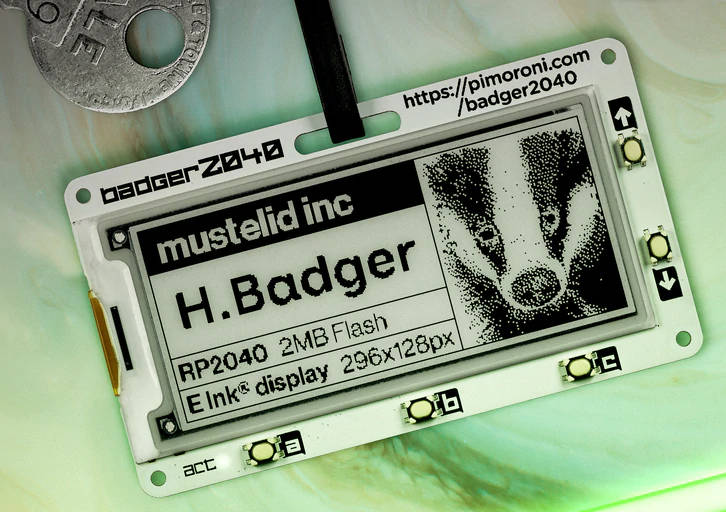 Called Badger 2040, the 2.9in display has 296 x 128 pixels and, being E Ink, retains its image indefinitely after power is removed.
Also on there is 2Mbyte of QSPI flash, five front user buttons, rear reset and boot buttons, and a white led.
A USB-C connector is provided for programming and one power input option, then there is a JST-PH connector for attaching the other power option, a 2.7 – 6V battery (there is no built-in charger).
The last connector is a four-pin JST-SH Qwiic-STEMMA QT connector for adding I2C peripherals. (Non-QT STEMMA seems to use a different size (JST-PH?) connector, but check)
Pimoroni has created C++ and MicroPython libraries, and it can be also be programmed using CircuitPython.
"Our C++/MicroPython libraries contain some nifty software tweaks to let you get the most out of your Badger. You'll get best performance using C++, but if you're a beginner we'd recommend using our MicroPython build for ease of getting started," according to the company. "CircuitPython drivers are designed to work on a bunch of different microcontrollers so you won't get the fancy RP2040-architecture specific tweaks that you'll find in our library, but you will get access to all the nice conveniences of Adafruit's ecosystem."
Overall size fits within 86 x 49 x 10mm.
Hats off to Pimoroni for creating the board, and Gary Sims whose Gary Explains Youtube channel bought Badger 2040 to my attention – Sims clearly know his stuff, and the swift pace and clear presentation of his videos is refreshing.
BTW, Pimoroni makes at least some of its products in Sheffield.