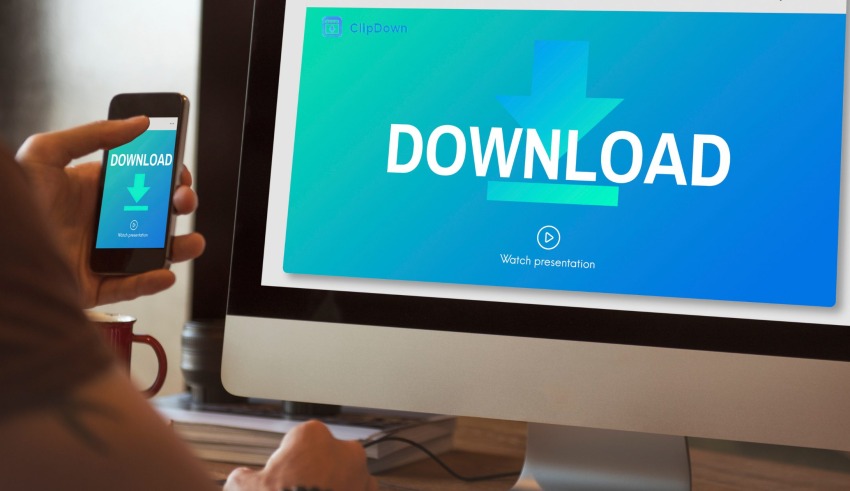 One of the most common consequences of looking for reliable video downloading software online is spam websites that only show you unnecessary ads. ClipDown Vide Downloader will bring an end to your endless search. You can now easily grab your favorite videos from any video-sharing site and download the videos to your computer.
ClipDown Video Downloader provides the best features to make this possible and gives you one of the fastest downloading speeds in the market, without affecting the quality of the downloaded video. Let's take a closer look at this powerful video downloading tool.
What is ClipDown Video Downloader? 
ClipDown Video Downloader is a program that can be used to download videos from various video-sharing sites. It simplifies the process so you can download any video from any video-sharing website in just a few simple clicks. The user interface makes the process very simple and its efficiency consistently ranks higher compared to its competitors.
You can use ClipDown to download videos from the most popular video-sharing sites, including YouTube, Facebook, Twitter, etc. If the video has a URL link, you can download it using ClipDown.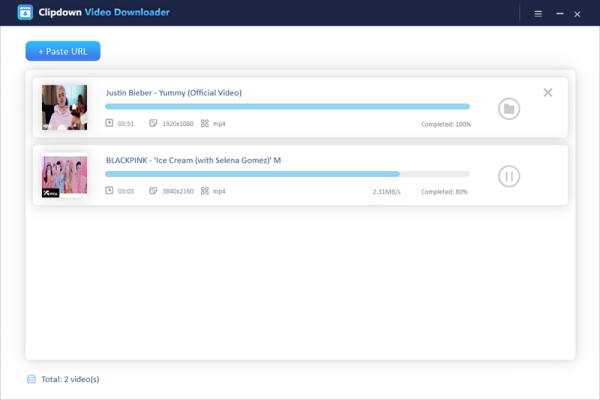 Features of ClipDown Video Downloader
 To be an effective video downloader, ClipDown has features that make the process easy, efficient, fast, and successful. These features include the following;
Supports 10,000+ Video Sharing Sites 
ClipDown Video Downloader is one of the few video downloaders that supports a huge number of sites. Most other downloaders may only support the most popular sites like YouTube and Facebook, but ClipDown allows you to download videos from more than 10,000 different sites. If the site supports video, you can use ClipDown to grab and download videos from it.
ClipDown will download videos at 3X the rate of the average downloaders in the market. This very fast download process will not affect the quality of the video you are downloading, meaning that you can download videos in HD and 4K formats just as quickly.
No one wants to spend a lot of time learning how a tool works, you just want to get on with the process of downloading the video. ClipDown makes it possible for you to do that thanks to its very easy-to-use and easily navigable user interface. The process is simplified, whether you are downloading the whole video or your goal is to convert the video to MP3 format.
Batch Processing
ClipDown is also the most ideal solution if you want to download a collection of videos -such as a playlist or even an entire channel from YouTube. And just because you are downloading more than one video at the same time doesn't mean that the process will be slowed down in any way or the quality of the videos.
How to Download Videos Using ClipDown
Downloading videos using ClipDown is a very simple process. First, you will need to install ClipDown on your computer. You can download the setup file from the program's main website and then follow the online instructions to install the program on your computer.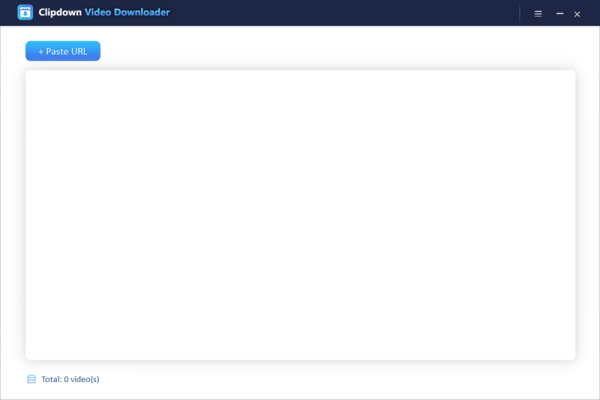 Once it is installed, you just need to copy the URL link of the video you want to download and then click on the "Paste URL" button in ClipDown to paste it into the URL. ClipDown will analyze the URL that you have provided and the download process will begin soon after.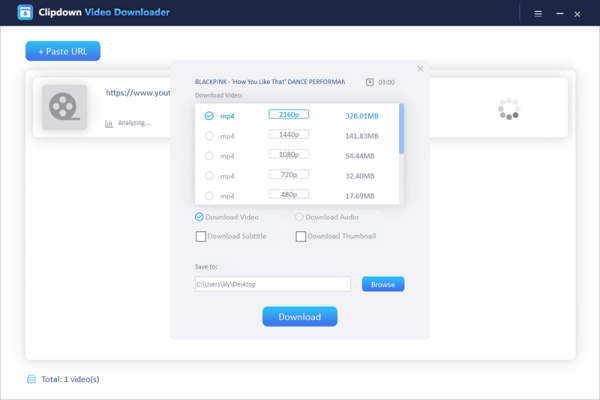 Pros
ClipDown downloads videos 3X faster than most other downloaders.
You can download videos from more than 10,000 different sites.
Videos can be downloaded in full HD, 3D, and 4K.
You can convert videos to high-bit-rate MP3.
Download is easily done using a simple copy and paste procedure.
You can pause and resume the download process and your leisure.
It has a free version.
Cons
You will need to upgrade to the premium version to access all features.
Conclusion
ClipDown Video Downloader is by far the best solution for downloading videos for offline use. Its numerous and very useful features make it the ideal solution regardless of the video you want to download, where you want to download it from and the format you need the video to be in.